If you shoot 360 photos with a 360 camera (Ricoh Theta or similar) or use the 'panorama' feature in a smartphone camera app, Facebook and Google know the results should be used as an interactive panorama. This is thanks to embedded metadata these sites look for when an image is uploaded.
But if you edit your shots in Photoshop or similar tools you may wipe out or mangle this metadata – and if you shoot and stitch your own 360 panoramas the files may not have the metadata in the first place.
Exif Fixer helps fix this; it reads the full metadata from a selected JPEG image, and if the required elements are missing it can add them for you with a single click. Download a free copy of Exif Fixer below.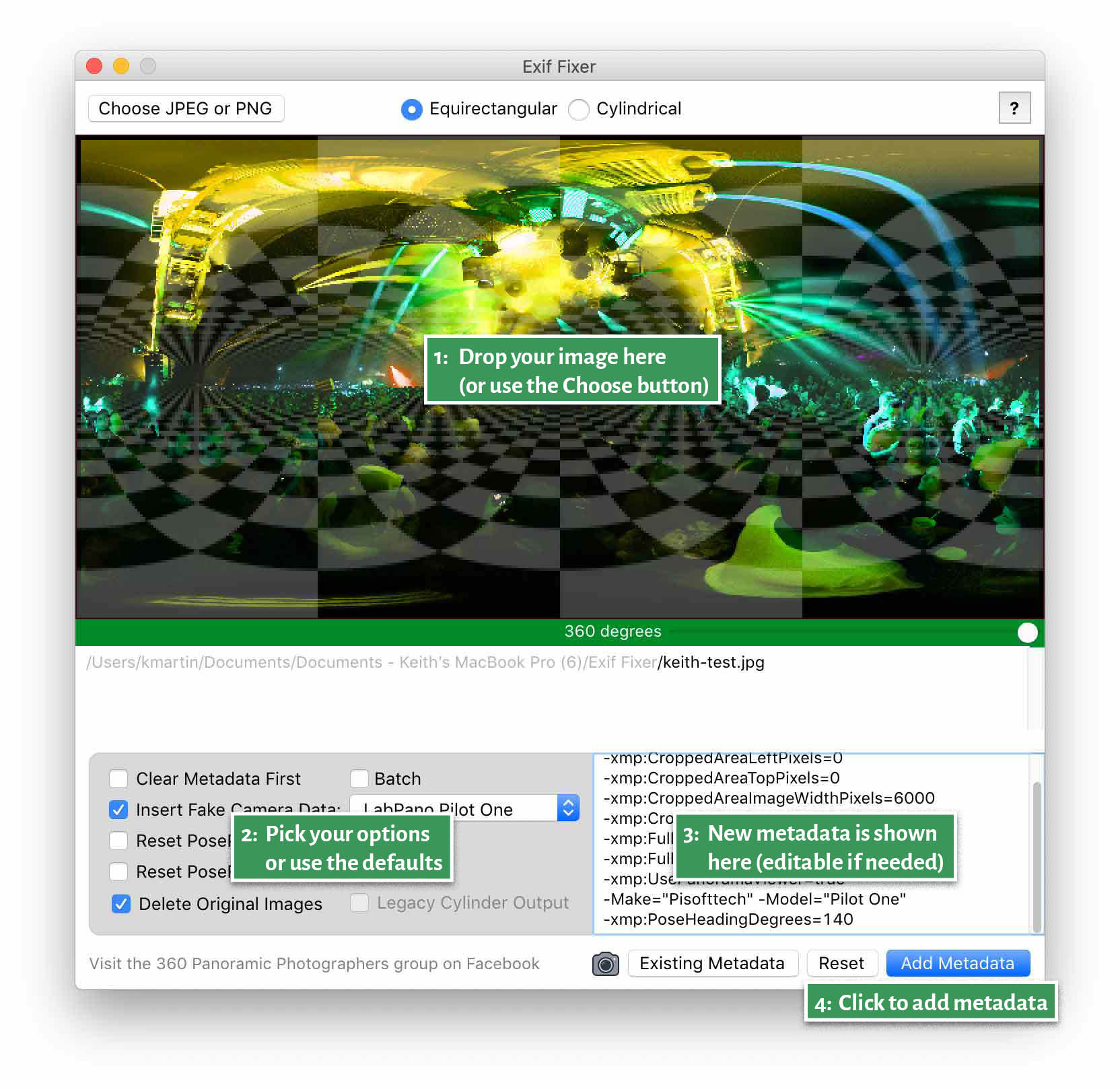 The process of using Exif Fixer on your own computer is simple. First drag-drop an image into the main window (or use the Choose button and browse to your image). Then pick your options or leave it at the default settings. The calculated metadata is shown in the scrolling field on the right. Finally, click Add Metadata and your panorama will be given the new correct metadata.
If you'd like to customise the data that will be embedded you can do this in the scrolling metadata field. Make sure any edits are 'exif-legal' and follow the general form of what's listed here or it will be ignored when adding to your image. If you delete a line from this list it won't be added to your image.
When batch-processing multiple panoramas the first image in the list is what's shown and what's used for calculating the new metadata. The same data will be added to every file, so make sure they are all of appropriately similar types. (For example don't mix cylindrical and equirectangular panoramas in a batch list.)
Important note: the exiftool command-line program is included with Exif Fixer, in the Dependencies directory, as Exif Fixer requires it. If you have a copy of exiftool installed and wish to use that instance instead, click the 'Use separate exiftool' checkbox.
Problems? Odd behaviour?
See the About Exif Fixer page for tips and information, or contact me via the chat button in the bottom-right of this page.
Exif Fixer Online is free to use, just like the standalone Exif Fixer app, but any tips help offset the cost of my software tools, time and hosting and really are gratefully received. You don't need a PayPal account to use this donation button.
Many thanks to everyone who has tipped me! It has directly helped support the development of this app and service and I really appreciate it.